I hope that The Federal judge will throw the book at those idiots !! I can't believe that people can be that stupid !
It's got to be a better way than just reacting and diverting flights because of a call, I'm no expert and do not have the solution but it seems too easy to disrupt the operations of airlines today.
http://www.nbcphiladelphia.com/news...adelphia-Due-to-Security-Issue-168753036.html
2 Being Questioned in Philly Int'l Hoax
Security issue involving US Airways flight at Philadelphia International Airport.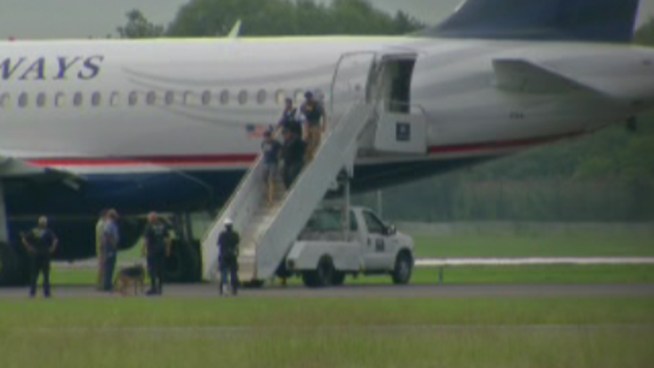 NBC10 Philadelphia
A man is removed from a US Airways flight in handcuffs after police respond to investigate a security issue.
Two people, a male and female, are in custody in Philadelphia and are being questioned about the hoax behind a security scare involving a US Airways flight en route to Dallas-Fort Worth, sources told NBC10.
Those sources also told NBC10 the hoax, which Philadelaphia Police called "a pretty nasty trick" was motivated by revenge involving a romantic relationship.
FBI agents told NBC10 the caller was a man.
Philadelphia Police Chief Inspector Joe Sullivan says the call was received at 7:30 a.m. and the caller claimed a man, whose name was given, would attempt to get on a plane to Texas with a dangerous substance.
It was determined the man named by the caller was on Flight 1267 whick took-off at 8:06 a.m. A decision was made by the Philadelphia Police, the FBI and US Airways to turn the plane around and it was given instructions to do so at 8:22 a.m.
NBC10 crews have been told that a man named
Christopher Shell
, was removed from the airplane in handcuffs, and is the victim of the hoax. Today is Shell's 29th birthday.
"He was obviously very alarmed as I would be if heavily armed police officers entered a plane to take me off, he was certainly stunned. That is why this is no joke, this is no laughing matter," said Sullivan.
Shell's Facebook page includes a post from him saying, "I'm pretty disappointed in US Airways currently. We just spent a half hour in the air to be notified that the plane, "has technical difficulties" and had to fly back! Flight 1267 CANCELED."
Sullivan says the man removed from the plane, who other sources have told NBC10 is Shell, committed no crime and is not being charged with any crime.
Sullivan added the person or people behind the prank will face several, serious charges.
Buses transported the passengers away from the plane, an Airbus A319.
The Transportation Security Administration released the followed statement:
"US Airways flight 1267 from Philadelphia International Airport (PHL) to Dallas Fort-Worth International Airport, returned to PHL this morning due to a report of a suspicious item on board. The flight landed safely at approximately 8:40 a.m., Eastern time and out of abundance of caution, was taken to remote area of the airport. Law enforcement representatives, including the FBI, have met the flight."
The plane landed at the old international terminal which was away from active runways and terminals.
US Airways says the cost of today's hoax will be "upwards of tens of thousands of dollars in direct and indirect costs."
It points out that jet fuel is today running at $3.25 a gallon - so the cost of wasting any of it for a returned flight gets expensive.
Add in the potential cost for airport fees, rebookings, the ripple effect of other flights affected...and it gets very expensive.
It will be some time before it knows the exact total tab.
But the airline says the biggest cost is the disruption to the passengers who were affected. Many could be late to business meetings, personal appointments, missed flights, whatever.
One US Airways exec tells NBC NEWS:
"People need to realize this isn't a game, it is serious and the feds (and we) take it seriously."
Hypothethically, the culprit could face criminal charges, and potentially civil action by the airline.
Philadelphia International Airport remained open during the incident.