Apparently a "terse" writer
Staff member
That's low man. Low.
http://abcnews.go.com/US/united-air...edly-stole-stranded-luggage/story?id=19820516
A United Airlines customer service representative and his girlfriend have been charged with grand theft and commercial burglary for allegedly stealing luggage from San Francisco International Airport in the aftermath of the Asiana Airlines Flight 214 crash.​
​


Sean Sharif Crudup, 44, and Raychas Elizabeth Thomas, 32, both of Richmond, Calif., were arrested at a United Airlines gate awaiting a flight to Hawaii at San Francisco International Airport on July 25, Detective Sgt. Wes Matsuura of the San Mateo County Sheriff's Office told ABCNews.com.​
​


While Matsuura said there is no evidence at this point in time that Crudup and Thomas were specifically targeting Asiana Airlines passengers who endured the crash, "it could still play out that way."​
​


"The unfortunate coincidence is that Asiana was on July 6, and this crime was on July 8," Matsuura said. "It was a crime of opportunity. A lot of bags were down there."​
​


Luggage had been piling up in the terminal because of the Asiana Airlines plane crash, which closed some of the San Francisco airport's runways and caused passengers flying in to be delayed or diverted for days after the accident occurred, Matsuura said.​
​


Airport surveillance footage obtained by police shows Crudup, who was working at baggage claim, rifling through a bag stranded at the airport's United Airlines terminal on July 8, according to Matsuura.​
​


Later, the same bag is seen with two separate women, who are also holding another bag, Matsuura said. One of the women was later identified by police as Crudup's girlfriend, Raychas Thomas. It is unclear who the other woman in the footage is at this time, he said.​
​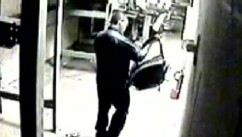 Airport Worker Caught on Tape Stealing Thousands From Passengers

Watch Video
​
​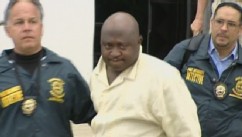 Newark Airport Supervisor Charged With ID Theft

Watch Video
​
​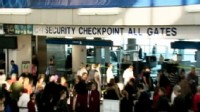 TSA Supervisor Arrested for Stealing

Watch Video
​
​


The victim whose bag was stolen and her family were scheduled to fly back to San Francisco from the Cayman Islands on July 6, Matsuura said. But their flight was rerouted to Houston as a result of Asiana Airlines Flight 214's crash landing onto the runway.​
​


Upon landing in Houston, the family checked their bags to arrive at San Francisco, according to Matsuura. But when they learned they would be unable to fly into the airport until July 9, they booked a flight to Los Angeles and drove up to the San Francisco Airport to pick up their bags from the United terminal instead.​
​


"There were some issues with the bags being located and one of their bags was missing," he said. "All the airports were a mess that weekend."​
​


But days after the luggage was reported missing, the victim got a phone call from her personal shopper at Nordstrom's to ask how her trip was and for an explanation as to why her sister returned $6,000 worth of clothing.​
​


"The victim said, 'I don't know what you're talking about, I don't have a sister, I didn't return any clothes,'" Matsuura said.​
​


The victim, who declined to be identified, then contacted investigators, who obtained Nordstrom's surveillance footage, Matsuura said.​
​


Police later determined through Nordstrom's surveillance that a woman, who was later identified as Thomas, was able to return the clothing to Nordstrom's without a receipt, and asked for the refund in cash. The money has yet to be recovered, Matsuura said.​
​


San Mateo Sheriff's deputies later searched Crudup and Thomas' home and found electronics, laptops, jewelry and clothing, Matsuura said. Some of the clothing found in their home belonged to the same woman who had her bag stolen.​
​


Crudup pleaded not guilty to one count of grand theft and two counts of commercial burglary when he was arraigned on July 26.​
​


He posted $75,000 bail the same day, Matsuura said. He is due back in San Mateo County Court in Redwood City, Calif., on Thursday.​
​


Thomas, who was released from jail on July 25 on $50,000 bail, is scheduled to be arraigned in Aug. 26 in San Mateo County Court.​
​


San Mateo County District Attorney Stephen Wagstaffe told ABCNews.com that Crudup had not been assigned a public defender as of Monday afternoon.​
​


United Airlines issued a statement as a result of the alleged stealing.​
​


"We hold our employees to the highest standard and have zero tolerance for any theft," the airline said. "We are assisting the San Francisco Police Department in this investigation, and this employee has been held out of service."​
​